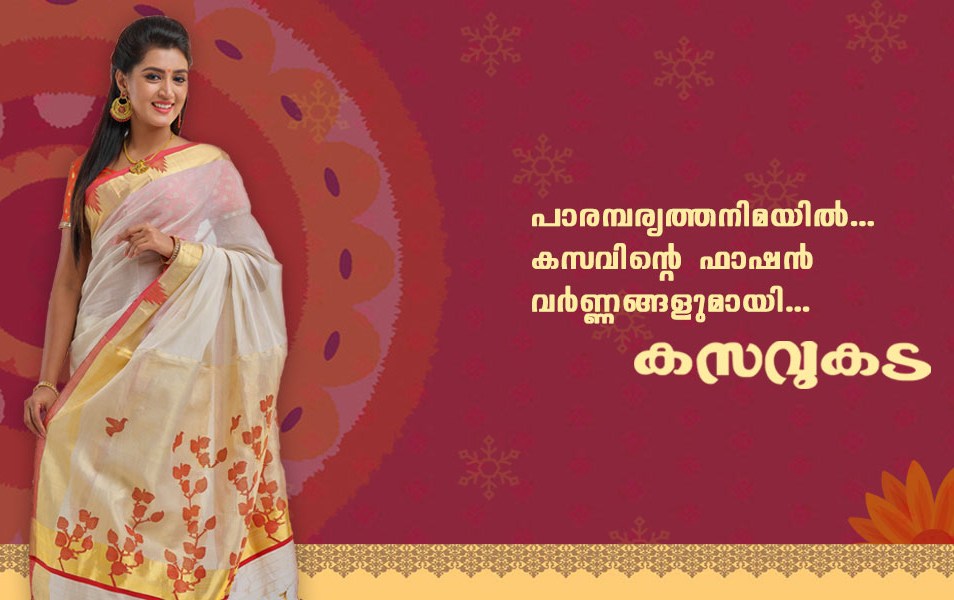 Kasavukada – The Traditional Handloom Dress Brand of Kerala
Kasavukada, arguably one of Kerala's biggest privately-owned traditional handloom enterprises. From rather humble beginnings around three decades ago, weave by weave, the enterprising couple,
Suseelan and his wife S. Vanaja have together built up a business that now employs some 4,000 weavers in and around Peringammala village near Kovalam in Thiruvananthapuram district.
Kasavukada's procurement centre is in Peringammala where stacks and stacks of Kasavu Sarees, Pudavas, Dhotis(Kasavu Mundu), Mundu-Neriyathu, Veshtis, Kavanis, Silk Shirt, Thorthu, and the likes are being readied to be shipped to our retail outlets across Kerala. All along, it has been a continuous struggle to ensure that people do not get cheated by fake handloom copy products. Kasavukada has plans to open more showrooms in Kerala in the coming years .We have crossed a milestone of 60 years in this field and now launched a premium collection of Kasavu Mundu branded as 'Proudhi' and the exclusive MEN SHIRT branded as 'JussFab'.
"We were living through the problems that weavers were facing with regards to financial difficulties, dependence on middlemen, Government apathy towards the handloom sector, petty politics, and the like. In fact, many of these issues still plague the handloom sector. We figured that direct selling original handloom products is the only way forward and that meant setting up a shop on our own".
Kasavukada started off with just 500 sq. feet of space – the front room of a house.  Kasavukada's trendy handloom designs and quality weaves became increasingly popular and we were soon able to expand our flagship stores and open up two more in Kochi itself. Opened up the first outlet in Kochi in May 1993, at Church Landing Road, near Pallimukku. "We wanted to stay clear of Balaramapuram where we would just be one among many handloom stores. Kochi was the best bet to take Balaramapuram handlooms, with our unique double-sided weaves, beyond its regional limitations".
Within three years we also opened shops in Kozhikode, Kottayam, and Thalassery. The Thiruvananthapuram store was opened in 2009. In quick succession we opened up an exclusive men store in Kochi, then we started another showroom in the city of poorams, Thrissur "the cultural capital of Kerala". In few years opened shops in Alappuzha, Thiruvalla (June 2018) and Thodupuzha (August 2018). This year (April 2019) we opened our 12th showroom in Kottakkal , Malappuram. All our showrooms have car parking facilities, so our customers could confidently drive to and park their cars in all our showrooms.
"Our mantra is to evolve with the times. Realising the trend for matching dhotis with shirts, we were the first handloom enterprise to open an exclusive men store in Kochi. We were among the first to branch out into salwar sets in the brand 'Y2K CHURIDARS'. We were also the first private handloom outlet to go for professional ads to introduce customers to new age designs. Incidentally,one of our brand ambassador was actress Amala Paul – that's before she got her break in films". Actor Mukesh is Kasavukada's evergreen brand ambassador for the last few years.