Kasavukada Welcomes you to a wonderland of handlooms a breathtaking range of designs from simple to exquisitic, traditional to innovative, Despite, the constantly changing trends in fashion. All the showroom of Kasavukada are interior designed in the same fashion. The showcase made of Wood and glass exibits a wide world of Beautiful Kasavukada Clothes, Cushioned table and Chair, Cool of air conditioner and soothing Background music make you relax to select Keralas own regal Kasavu Clothes of your Choice.
Kasavukada Cochin (Two Showroom)
1) Kasavukada Corporate Sales Shop Area 2400 sq ft.
Travel 250 mtr from Pallimukku Medical Trust Hospital Junction on the church landing road towards the fine Arts Hall on the right side you will find Kasavukada Crystal Arcade Showroom.15 mtr further down the same road is the largest Kasavukada Showroom corporate sale shop. Kasavu mundu and Matching Shirt for men, Kasavu saree, set Mundu of Kasavu border set mundu with border, Kasavu and border line sarees, Churidar for Ladies. Bridal Collections you need-we have them at Kasauvkada. Inaddition we under take orders for Kasavu dresses and deliver them Promptly.
2) Kasavukada men's wear-Area 1000 sq ft
This exclusive men's wear shop is next to the corporate shop. Here we have shirts which exactly suits with theMundu Which has same border. COCHIN, the "Queen of the Arabian Sea" has one of the finest natural harbours in the world and is one of theoldest port in country. Ernakulam, the "Gateway of Kochi" is the commercial and residential part of the twin city.The main attractions are – Chinese Fishing Nets, Beach, Santa Cruz Basilica, St. Francis Church, Vasco House,VOC Gate, Bishop's House, Fort Immanuel, Dutch Cemetery, Willington Island, Vypin Island, Bolghatty Palace at Bolghatty Island etc.
3) Kasavukada Kottayam-Area 700 sq ft.
This show room in at Pulimood Junction near SBT main Branch on Arafa Tower. Kasavu Mundu and matching shirts for Men and sarees of Ladies with Kasavu, set mundus of kasavu border and color, Kavani, Churidar etc. KOTTAYAM, the Beautiful backwater town and important trading centre also known as the 'Mecca of Publishing Industry' in the Kerala state. Several newspapers (dailies), magazines and periodicals in Malayalam and English are published here. Stronghold of Christians and has numerous ancient churches. Thirunakkara Siva Temple – It is a good example of Kerala style of architecture. 'Phalguna Utsav', the annual festival is celebrated during March.
4) Kasavukada-Thrissur Area 800 sq ft.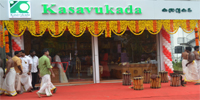 This exclusive show room on Poothole Road near Jayalakshmi, with parking facility. Here we have silk and linen shirts exactly suit with Dothi which has same border for men. Kasavu saree, Set mundu, Pudava, kavani and Churidar for Ladies. THRISSUR, the 'Cultural Capital' of Kerala is built around a hillock, crowned by the famous Vadakkumnathan (Siva) Temple, believed to have been founded by legendary Parasurama. The temple is a classical example of Kerala style of architecture and houses several sacred shrines. It is believed that Adi Shankaracharya spent his last days here. Pooram Festival (Apr. – May), well known for the 'Elephant umbrella' competition is the major attraction of Thrissur. Beautifully decorated elephants with ceremonial umbrellas carry the deity on a chariot around the main temple. Other places of interest are – Archaeological Museum, Zoo, Fort, Palace and Churches etc.
Kasavukada-Kozhikode (Two Show rooms)
5) Kasavukada SM Street-Area 400 sq ft.
From Mananchira go through SM street near Radha Theatre. Kasavu mundus with Matching shirts for men. Kasavu saree, Set mundu, Kavani, Churidar and Pudava for Ladies. Place of Interest : Mananchira Square – The historic maidan is now an arcadia with beautiful trees and plants, artificial hills, sculptures, open air theatre and musical fountain. and other places of interest in Kozhikode town are the Planetarium and Regional Science Centre.
6) Kasavukada-EMS Stadium Bldg 1000 sq ft.
On the side of Pavamani Road near Cornation Theatre at EMS Stadium Building. Here we have Shirts which exactly suits with the mundu which has same border for men. Kasavu saree, Set mundu, Pudava, Kavani and Churidar for Ladies. Place of interest Near EMS Stadium are the Planetorium and Regional Science Centre. Kozhikode, the lush green district teems with serene beaches, verdant hills, wildlife sanctuaries and historic sites. The district occupies an important position in Indian history, as Vasco da Gama landed at Kappad (16 kms. north of Kozhikode) in 1498, and discovered the sea route of India. The marked the advent of European powers in India.
7) Kasavukada-Thalassery-Area 600 sq ft.
When we look from New Bus Stand Thalassery we can see the Sithara complex. 500 mtr. distance from the coffee house in the complex we see The Kasavukada. Here we have shirts which exactly suits with the mundu which has same border for men. Kasavu saree, Set mundu, Pudava and Churidar for Ladies. Thalassery the historical town famous for producing most of the Indian's circus artist and Magnificent fort on the Thalassery Beech was built by the British in 1708.
8) Kasavukada Thiruvananthapuram-Area 2000sq.ft.
This show room is situated in the heart of city of thiruvananthapuram,the capital of kerala,at MG ROAD very near to KSRTC bus stand and CENTRAL RAILWAY STATION.It is an exclusive showroom for kerala style traditional handloom fabrics like PUDAVAS for wedding,matching SHIRTS and kasavu Mundu for men and SAREES for Ladies with Kasavu, SETMUNDU of kasavu border and colour ,Kavani, Churidar Material etc ..The location of this showroom is nearer Secretariat,world famous Attukal devi temple and Sreepadmanabha swami temple.
The exact point of location is opposite to SMVHSS, near old sreekanteshwaram temple.The other places of interest neraer are ;- Kovalam Beach -the world famous tourist place, and lighthouse,Museum ,zoo,Finearts college, Legislative assembly,Veli tourist place,Ponmudi-the hill top etc…
9) Kasavukada Procurement – Thiruvananthapuram
From Trivandrum city 9 km through NH 47 (From TVM to Cape Commerin) we reach Pallichal Junction-then turn right the Vizhinjam Road cover 3.5 Kmt distance to Peringammala (Near Vishnu temple and Sree Narayana Jayanthi Theatre) Thiruvananthapuram, the Clean and beautiful capital city sprawling over seven low coastal hills. Sri Ananthapadmanabha Swamy Temple – It is the most conspicuous landmark of the city. Lord Vishnu is represented as Sri Padmanabhaswamy or "lotus navel" and is depicted reclining on the coil of Sri Anantha, the sacred snake. The temple is a fine example of Kerala and Dravidian architecture and was rebuilt by Raja Marthanda Varma in 1733. Govt. Art (Napier) Museum – The museum building is built in traditional Kerala architecture with influences of Chinese and Mughal styles. Fine collection of bronzes, ornaments, costumes, masks, ivory carvings and musical instruments, etc.